If you decided to travel to Ukraine

If You are citizen either of
USA, Canada, Japan, European Union countries, Switzerland, Liechtenstein, Slovak Republic, Turkey
you don't need any visa or invitation to enter Ukraine for maximum period of
3 months
(If you are you may skip the rest of the chapter).
For other countries you will need to contact the Ukrainian consulate in your country asking how you can get Ukrainian private(visitor) visa and what you need to do to apply for it.
You would need to send us a certain list of documents in order us to proceed with arranging of your voucher and invitation. Then we would send you
invitation and travel voucher
to your full address provided, by postal services like
FedEx, UPS or DHL
; sometimes it's acceptable to scan these documents and send it to you via e-mail (you should ask about that in the Ukrainian consulate of your country).
Important:
contact Ukrainian embassy in your country to know the exact procedure of obtaining visa.
The official list of Ukrainian embassies and their addresses is stated on
Ministry of Foreign Affairs of Ukraine
web-site.
With documents delivered to you by us (invitation and voucher),
your passport,
photos,
Consular processing fee receipts and
completed visa application form you would need to visit the Ukrainian Consulate and apply for visa.
We are glad to give e-mail contacts of our many clients we helped in Australia, UAE, Bangladesh and other countries.
Contact us
right now to order your Ukrainian visa.
We suggest you
To make your stay in Odessa very nice and convenient we suggest you to use our
apartment rental service
. Apartments are much better than hotels in Odessa because hotels are double, triple more expensive than apartments of equivalent level, Your privacy in most of the hotels is disturbed - you can not invite your friends, your lady to your room without them having a passport identification. Many apartments are equiped with Internet connection which is very convenient for you.
We can also offer you meeting in the airport and transfer to your flat, excursions in English of various types so you can find out more about the history of Ukraine and Odessa and to see more interesting sightseeings.
If you want your lady from Ukraine to move to your country
First of all you should remember: It's impossible for the woman to get any kind of tourist visitor visa to countries like USA, Canada, Australia etc. You should be very cautious with Ukrainian ladies asking for money to get travel visa. One of the most popular ways is obtaining Fiancee visa.
We would be glad to consult you over this process as we have big experience in doing so. Because foreign lawyers don't know some specific facts about the documents from the side of the lady which could make the process faster.
List of foreign embassies in Ukraine provided by Ministry of Foreign Affairs of Ukraine
Embassies of foreign countries in Ukraine
Some facts about Odessa useful for traveller
This article is licensed under the
GNU Free Documentation License
.
It uses material from the Wikipedia article
"Odessa"
Odessa
The city is a major
seaport on the Black Sea
, the largest port in Ukraine.
An ancient Greek colony had once occupied the site of the city. Numerous monuments of antiquity confirm links between this territory and the Eastern Mediterranean. In the Middle Ages these lands were a part of the
Kievan Rus
,
the Golden Horde
,
the Grand Duchy of Lithuania
, the Crimean Khanate and the Ottoman Empire. Yedisan Tatars traded there in the 14th century. In the course of Russian–Turkish wars these lands were captured by Russia at the end of the 18th century.[3]
From 1819–1858 Odessa was a free port (porto franco).
During the Soviet period it was the most important port of trade in the U.S.S.R. and a Soviet naval base. On January 1, 2000 the Quarantine Pier of Odessa trade sea port was declared a free port and free economic zone for a term of 25 years.
Odessa is a warm water port
, but of limited military value. Turkey's control of the Dardanelles and Bosphorus has enabled NATO to control water traffic between Odessa and the Mediterranean Sea.
The city of Odessa hosts two important ports
: Odessa itself and Yuzhny (also an internationally important oil terminal), situated in the city's suburbs. Another important port, Illichivs'k (or Ilyichyovsk), is located in the same oblast, to the south-west of Odessa. Together they represent a major transportation junction integrated with railways. Odessa's oil- and chemical-processing facilities are connected to Russia's and EU's respective networks by strategic pipelines.
In the 19th century it was the
fourth city of Imperial Russia
, after Moscow, St. Petersburg, and Warsaw.[4] Its historical architecture has a flavor more Mediterranean than Russian, having been heavily influenced by French and Italian styles. Odessa has always possessed a spirit of freedom and ironic humour, probably by virtue of its location and its willingness to accept and tolerate people of many different backgrounds.
History
First settlements to the end of the 19th century
In the 15th century AD, nomadic tribes of the Nogays under the suzerainty of the
Khanate of Crimea
inhabited what is now the Odessa region. During the reign of Khan Haci I Giray, the Khanate was endangered by the Golden Horde and the Ottoman Turks and, in search of allies, the khan agreed to cede the area to the Grand Duchy of Lithuania.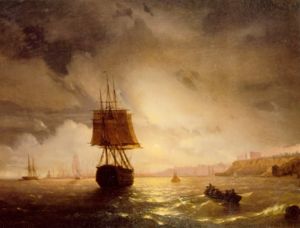 The site of present-day Odessa was then a town known as Khadjibey (also spelled as Khadjibei, Khadzhibei, or Gadzhibei; Lithuanian: Chadzibejus; Crimean Tatar and Turkish: Hac?bey) and was part of the Dykra region. However, the area was only sparsely populated with Turkic tribes and consisted mostly of unpopulated steppes.
Khadjibey came under direct control of the Ottoman Empire after 1529 and was part of a region known as
Yedisan
and was administered in the Ottoman Silistra (Ozi) Province. In the mid-18th century, the Ottomans rebuilt a fortress at Khadjibey, which was named Eni Dunia (Turkish: Yeni Dunya, literally "new world").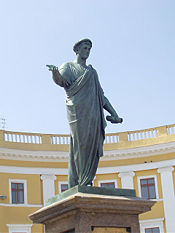 During the Russo-Turkish War of 1787–1792, on 25 September 1789, a detachment of Russian forces under Ivan Gudovich took Khadjibey and Yeni Dunya for the Russian Empire. One part of the troops was under command of a Spaniard in Russian service, Major General Jose de Ribas (known in Russia as Osip Mikhailovich Deribas) and the main street in Odessa today, Deribasovskaya street, is named after him. Russia formally gained possession of the area as a result of the Treaty of Jassy (Iasi) in 1792 and it became a part of the so-called Novorossiya ("New Russia").
The city was officially founded in 1794
as a Russian naval fortress on the ruins of Khadjibey and renamed Odessa by January 1795, when its new name was first mentioned in official correspondence. Neither the origin of the new name nor reasons for renaming are known, though etymologies and anecdotes abound. According to one of the stories, when someone suggested Odessos as a name for the new Russian port, Catherine II said that all names in the South of the Empire were already 'masculine,' and didn't want yet another one, so she decided to change it to more
'feminine' Odessa
. This anecdote is highly dubious, because there were at least two cities (Eupatoria and Theodosia) whose names sound 'feminine' for a Russian; besides, the Czarina was not a native Russian speaker, and finally, all cities are feminine in Greek (as well as in Latin). Another legend derives the name 'Odessa' from the word-play: in French (which was then the language spoken at the Russian court), 'plenty of water' is
assez d'eau
; if said backwards, it sounds similar to that of the Greek colony's name (and water-related pun makes perfect sense, because Odessa, though situated next to the huge body of water, has limited fresh water supply). Anyhow, a link with the name of the ancient Greek colony persists, so there might be some truth in the oral tradition.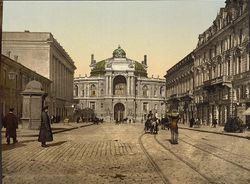 The new city quickly became a major success. Its early growth owed much to the work of the
Duc de Richelieu
, who served as the city's governor between 1803–1814. Having fled the French Revolution, he had served in Catherine's army against the Turks. He is credited with designing the city and organising its amenities and infrastructure, and is considered one of the founding fathers of Odessa, together with another Frenchman, Count Louis Alexandre Andrault de Langeron, who succeeded him in office. Richelieu is commemorated by a bronze statue, unveiled in 1828 to a design by Ivan Martos.
In 1819 the city was made a free port, a status it retained until 1859. It became home to an extremely diverse population of
Russians, Ukrainians, Jews, Romanians, Greeks, Bulgarians, Albanians, Armenians, Italians, Frenchmen, Germans
and traders representing many other European nationalities (hence numerous 'ethnic' names on the city's map, e.g., Frantsuszkiy (French) and Italianskiy (Italian) Boulevards, Grecheskaya (Greek), Evreyskaya (Jewish), Arnautskaya (Albanian) Streets). Its cosmopolitan nature was documented by the great Russian poet
Alexander Pushkin
, who lived in internal exile in Odessa between 1823–1824. In his letters he wrote that Odessa was a city where "you can smell Europe. French is spoken and there are European papers and magazines to read". Odessa's growth was interrupted by the Crimean War of 1853–1856, during which it was bombarded by British and French naval forces. It soon recovered and the growth in trade made Odessa Russia's largest grain-exporting port. In 1866 the city was linked by rail with Kiev and Kharkov as well as Iasi, Romania.
The city became the home of a large Jewish community
during the 19th century, and by 1897 Jews were estimated to comprise some 37% of the population. They were, however, repeatedly subjected to severe persecution. Pogroms were carried out in 1821, 1859, 1871, 1881, and 1905. Many Odessan Jews fled abroad, particularly to Palestine after 1882, and the city became an important base of support for Zionism.
This article is licensed under the
GNU Free Documentation License
.
It uses material from the Wikipedia article
"Odessa"